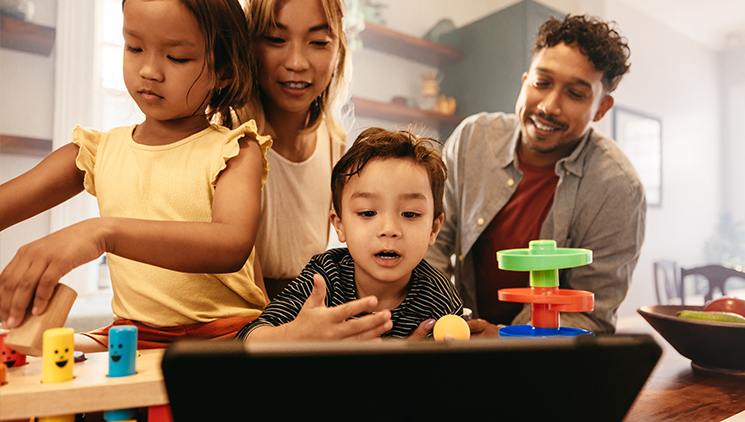 Learning Resources For Parents and Grandparents
The Methodological Framework
Family Learning through play.
A play based methodology results in a relaxed and pleasant atmosphere, where time passes quickly and the ego is diluted. Well-being is fundamental to all learning, and play is one of the best ways to facilitate it.
One of the main risks of the use of technologies by young people is isolation from their families. Young people have a window open to the outside world where information of all kinds can come in and out, while they are in a room with the door closed.
Whether it is a metaphorical or a real door, it is a problem. Young people are very vulnerable and need the support of adults who can educate them about using technologies responsibly, efficiently and without risks to their emotional health.
This is why family activities within this context are particularly appropriate. The conversations, queries, debates or discussions that may arise from them will help to facilitate family communication, identify where each young person is most vulnerable, and create a routine of dialogue between parents or grandparents and their children.
Our Approach
The methodology is based on a mix of approaches:
Experiential learning and learning by doing
Bite-sized learning
1. Experiential learning and learning by doing approaches will be used in order to place the parents and children at the center of the learning, making them active actors of the learning.The methodology will be based on David Kolb's experiential learning model.
I.    Concrete experience.  The parents and children will read together the instructions of the challenge / step-by-step guidelines.
II.    Reflection observation. Guiding questions to encourage reflections during and after the experience.
III.    Conceptualization - Guiding questions to reach conclusions.
IV.    Active experimentation. Suggestions on how to implement the learning in future real-life situations.
The "5 Questions" model can be used:
Did you notice?
Why did that happen?
Does that happen in life?
Why does that happen?
How can you use that?
2. Bite-sized learning
Teaching by means of bite-sized learning tools is related to the trend of microlearning, which is an emergent informal learning strategy intended to quickly close gaps in knowledge and skills, in the context of completing a task. The BSL tools and microlearning have emerged to adapt to the lifestyles and rhythm of life in modern society.
Each Bite sized tool created will contain a small piece of content and will focus on one  learning objective only, as it is intended to reflect a single concept or idea by means of a  range of sources such as: varied media format ranging from a YouTube video to a Wikipedia entry, blogs, wikis, video courses and lessons, tutorials, infographics, TEDTalks, Slideshare presentations and other  Open Educational Resources (OER) collected from the Internet. Some will also be worksheets, real-life examples and step-by-step guidelines.
The Bite sized tools will engage learners in self-paced learning activities to find immediate answers to questions that arise in completing a task such as "how does this work?", or "what does this mean?", or "who said that?".